Lawler Group Web Page
We are the research group of Professor Lawler.
We do research in A.M.O. physics at the University of Wisconsin, Madison.
Resistance is futile.

The Group
Meet the people behind the work. You may be pleasantly surprised.



Lighting Research
This is where the good stuff is. It's full of bright ideas. No dim bulbs here. Do a little light reading.


Astrophysics
Measurements of oscillator strengths for ionized metal. Experience atomic love and passion in the forbidden recesses of space.

Atomic Lifetime Measurements
Even an atom cannot escape the reaper! A thrilling roller-coaster ride of laser-induced fluorescence.
---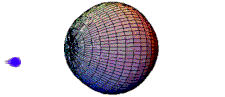 C.C. Lin's Group Page

University of Wisconsin Physics Page

Atomic, Molecular and Optical Physics homepage

University of Wisconsin