Haeberli

... Willy Spin-Up Fest
- Last Updated June 28

Tom Clegg's License Plate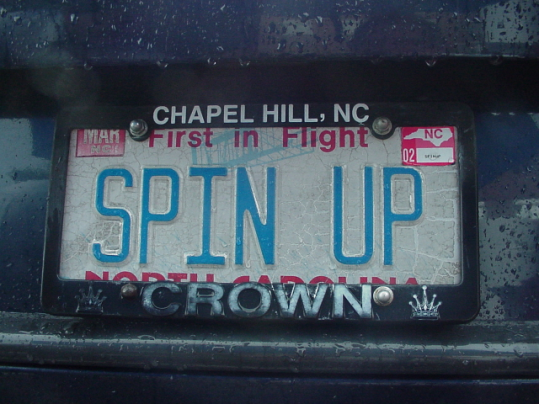 Work by other "artists" will be posted as received.
Program for Symposium:
June 10, 2005. Department of Physics, Room 1300 Sterling Hall
Spin Physics and Beyond
In honor of
Professor Willy Haeberli
Session I
9:00-10:30 AM
Chair: Robert E. Pollock, Indiana University
9:00

Opening Remarks

Wilmer Anderson, University of Wisconsin

9:05

A Lens for Neutrons

Hans-Otto Meyer, Indiana University

9:30

Using Nuclear Physics Techniques for Material Analysis — (pdf, 12 MB) / (ppt, 1.8 MB)

Laurence C. McIntyre, University of Arizona

9:45

The Songs of the Stars and the Part that Willy Sings — (pdf, 17 MB) / (ppt, 7.9 MB)

Robert Cadmus, Grinnell College

10:00

Ions: an Insider's View

Fred Schlachter, Lawrence Berkeley National Laboratory

10:15

The Electron Cyclotron Resonance in Magnetic Fusion Research — (pdf, 9.6 MB)

John Lohr, DIII-D National Fusion Facility, General Atomics

10:30-11:00
Coffee
Session II
11:00-12:30 AM
Chair: Gian-Reto Plattner, Universität Basel
11:00

Can Ion Implantaters Keep Up with Moore's Law?

Hilton Glavish, Zimec Inc.

11:15

Positron Emission Tomography (PET) at Madison — (pdf, 14 MB) / (ppt, 9.4 MB)

Alexander K. Converse, University of Wisconsin

11:30

Science in the U.S.-Russian "Lab-to-Lab" Program

Lynn Veeser, Los Alamos

11:45

Atomic Collisions in Spin-Polarized Hydrogen Targets

Thad Walker, University of Wisconsin

12:00

The Undergraduate Physics Program at Angelo State University

Dave Loyd, Angelo State University

12:15

The Lineage of Nuclear Polarization Experiments Often Leads Through Madison — (pdf, 5.7 MB) / (ppt, 6.5 MB)

Thomas B. Clegg, University of North Carolina

12:30-1:30
Lunch
Session III
1:30-3:15 PM
Chair: Alan Krisch, University of Michigan
1:30

Parity Violation Experiments at SIN — (pdf, 390 kB) / (ppt, 509 kB)

Thomas Roser, Brookhaven National Laboratory

1:45

Optically-Pumped Polarized H-Ion Source for the TRIUMF Parity Violation Studies in pp-scattering at 221 MeV

Anatoli Zelenski, Brookhaven National Laboratory

2:00

A Brief History of Thermal Velocity Polarized H Beams

Tom S. Wise, University of Wisconsin

2:30

An Ultra-Cold Jet of Polarized Atomic Hydrogen

Richard Raymond, University of Michigan

2:45

Spinning Protons in Bottles — (pdf, 104 MB) / (ppt, 62 MB)

Erhard Steffens, University of Erlangen-Nürnberg

3:15-3:45
Coffee
Session IV
3:45-5:45 PM
Chair: Richard Prepost, University of Wisconsin
3:45

Precision Measurements of the Electromagnetic Structure of Deuterium

Richard G. Milner, Laboratory for Nuclear Science, MIT

4:00

Spin Observables in Electron Scattering

Ingo Sick, Universität Basel

4:15

Development of a Polarized Hydrogen Jet Target for RHIC, the First Physics Results

Yousef Makdisi, Brookhaven National Laboratory

4:45

A New Project to Produce Polarized Antiprotons — (pdf, 4.3 MB) / (ppt, 1.7 MB)

Frank Rathmann, Kernforschungszentrum Jülich

5:00

RHIC Spin Physics Program

Gerry Bunce, Brookhaven National Laboratory

5:15

Polarization Experiments for a Rainy Day (or Decade) — (pdf, 5.8 MB) / (ppt, 3.8 MB)

Steve E. Vigdor, Indiana University

5:30

Spin Physics in the Early 70's

Lynn Knutson, University of Wisconsin

6:30-7:15
Social Hour, Fluno Center, 601 University Avenue
7:15
Dinner
After Dinner Remarks:
Master of Ceremonies: Wilmer Anderson, University of Wisconsin
Charles Holbrow, Charles A. Dana Professor of Physics (Emeritus), Colgate University

Some Reminiscences of Willy Haeberli's E&M Course
Jay Davis, National Security Fellow (Retired), Lawrence Livermore National Lab

Elegance in Design, Excellence in Advice — (pdf, 48 MB) / (ppt, 25 MB)
James Sowinski, IUCF

A Spin Through Physics with Willy
Dave Kocher, Oak Ridge, Tennessee

Lessons from a Master Communicator
Dieter Fick, Philipps University, Marburg

Approaching Willy
List of those attending (* dinner only):
* Rita Anderson
Connie Blanchard
* Jean Buehlman
* Jules Peterson
* Mary Anne Clarke
* Dan Clarke
* Dea Larson
* Scarlett Presley
* Mary Davis
* Billy Gates
* Barbara Glavish
* Bill Grogan
* Gabriele Haberland
Martin Haeberli
* Frances Haeberli
* Camryn Boyle
* Dominic Boyle
Paul Haeberli
* Heidi Haeberli
* Nelly Halzen
* James Hanesworth
William N. Hitchon
* Mary Holbrow
* Bill Klabunde
Jane Shea-Knutson
* Kathy Lawler

* Chris Lynch
* Mary Karas
* Pat McIntyre
Steve Narf
* Tracy Narf
* Anne Pancella
* Jean E. Pollock
* Pamela Quin
* Jim Raatz
* Carla Raatz
* Bonnie Rathmell
* Don Reeder
* Georgine Dominique
* Mark Saffman
* Daria Vassina
* Barb Schutz
Dixie J. Welch
* Edward Slotten
* Debbie Slotten
* Linda Stephenson
* Joe Sylvester
Keith Symon
* Michele Walker
* Audrey J. Weitkamp
* Bonnie Wise
* Lee Anderson-Yule
Saturday Dinner Invitation:
Willy is inviting all out-of-town guests for dinner at his house on the shore of Lake Mendota. Because of limited space, confirmation by e-mail to haeberli@wisc.edu is essential (unless you have done so already). Indicate if you will bring a companion.
Hotels:
The arrangements for reduced Haeberli-Fest rates at the Howard Johnson Plaza apply to Thursday and Friday nights, June 9 and 10. The rate on Saturday night will be the normal $119 rate unless you find a better rate on the web.
Map of Campus Area:
Things To Do in Madison:
Sightseeing
State Street

A pedestrian street (except buses) that runs from Campus to the State Capitol. It is a student area with many sidewalk restaurants and cafes. It is an ideal place to stroll without a need for a car. The heart of campus life. Lined with coffeehouses, bookstores and shops and boutiques catering to students.
Lower State Street, Campus
Chazen Museum of Art (formerly Elvehjem) 800 University Ave.

Art Museum covering Antiquity to Contemporary Art, Exhibitions on three floors (free entry)

Memorial Library

Reading room with lots of international daily papers also Rare book collection — daypass for out of town visitors

Campus

75 minute walking tour without reservation — Mon.-Fri. 3pm, Sat. noon, other tours available (www.visitbucky.wisc.edu)

Memorial Union

Student hangout in beautiful location. Building has murals, architecture relating to Wisconsin history. Union terrace borders the lake, nice place for lunch, although the food leaves something to be desired. Specialties are brats and beer. Great University-made ice cream (sold on first floor).

Lakeshore path (walk from Memorial Union to Picnic Point)

For a stroll along the lake front, start at the Memorial Union or at the quite obvious Red Gym (on Langdon Street, one block north of State Street) and take the pedestrian path along the lake to the west — you can keep going until you get to the tip of the peninsula called Picnic Point. Actually, the campus extends beyond to the student housing area and adjacent to it the faculty housing area "University Houses" intended as temporary housing for young faculty.
State Street offers many nice restaurants, some we recommend:
Kabul — 541 State Street

Middle Eastern Cooking — good, inexpensive

Husnus — 547 State Street

Mediterranean Food — good, inexpensive

Sunporch Café — 640 State Street on the second floor

Orpheum Lobby — upper State Street

In lobby of old fashioned movie theatre

Wasabi — 449 State Street on the second floor

Madison's best Sushi

Porta Bella — 425 N. Frances just off State Street

In the evening you may want to try the wine bar (50 wines and 15 draft beers)
Upper State Street and the State Capitol at the Square:
State Capitol Architecture

Built by George B. Post & Sons 1906-1917 after the old Capitol was destroyed by fire. Most beloved building in Madison. Elegant interior, variety of marbles, murals, great view over Madison from observation deck. Free tours at 9, 10, 11 am as well as 1, 2, 3 pm (Mon.-Sat.) (www.wisconsin.gov)

Monona Terrace Convention Center (located at the place where a straight-line extension of State Street hits Lake Monona)

Built posthumously following Frank Lloyd Wright's original plans for a Convention Center at this location — great architecture. Daily tours at 1 pm (1 hour, $3) - but you can also just walk in. (www.mononaterrace.com)

State Historical Museum

Overture Center

by architect Cesar Pelli. part still under construction. visit on your own.

Saturday Farmer's Market

A Madison tradition and according to the New York Times the oldest and largest "true" Farmer's market where only home-grown products can be sold (flowers, plants, vegetables, fruit and some meats). Wisconsin Maple Syrup is something you can take home with you. Mostly it is just a fun place to stroll on Saturday morning, combined with breakfast in the area. In particular, l'Etoile restaurant mentioned again below has a coffee shop with delicious croissants etc. baked on the premises. There are also nice breakfast places on King Street to the east of the square — diagonal from the corner where State Street meets the square.
Restaurants on or near the square, includes Madison's two best restaurants Harvest and l'Etoile:
Harvest — 21 N. Pinckney, 608-255-6075

l'Etoile — two doors away from Harvest

Owner received, among others, the James Beard Award.

BlueMarlin — 101 N. Hamilton, 608-255-2255

A (noisy) fish restaurant across the street

Muramoto — King Street

Friday lunch only. Asian inspired dishes.

Several other lunch restaurants on King Street, e.g. Café Continental.
Further afield
Zoo

Lake Wingra

Arboretum

Monroe Street

Small area with shops, galleries, wine bars, coffeehouses and restaurants

Olbrich Botanical Garden

Nice botanical garden with greenhouse and outdoor trails through different themed gardens — herbs, wildflowers, subtropical plants with Thai Pavilion, and new rose garden to be opened on June 19. No lunch facility.

Saturday Farmer's Market — Capitol Square, 6-11am
Excursions (by car approx. 1 hour from Madison)
Devil's Lake

A picturesque glacial lake with great hiking trails. The one hour trip to Devil's lake is particularly fun if you take the route that crosses the Wisconsin River by car ferry (free!) at a place called Merrimac. (http://www.dnr.state.wi.us/org/land/parks/specific/devilslake/, http://www.devilslakewisconsin.com/, http://www.tn.merrimac.wi.gov/ferry.htm, http://www.BarabooNow.com/moreattractions/freeferry.asp)

Taliesin — Spring Green

Architect Frank Lloyd Wright's home and school of architecture set on his ancestor's land. Nice store and lunch facility. A variety of tours are offered, we recommend: The house tour (2 hours, $ 45, Friday 10am, 11am, 1pm, 3pm); The hillside tour (1 hour, $ 16 daily, 10:30am, 12:30am, 2:30pm, 4:30pm); Special estate tour (4 hours, $75 Saturday, Sunday only starting at 9:30am). www.taliesinpreservation.org)

Tower Hill State Park

House on the Rock — Spring Green

Quirky Prairie Style house with even quirkier, eclectic collections ranging from paperweights and stained glass lamps to animated music machines & pipe organs (music of yesterday), carousel horses (several hundred different ones assembled into a huge carousel), model ships, model airplanes and much more for those young at heart and blessed with a spirit of wonder — open 9am to 6 pm, ($ 20 but bring quarters for the truly amazing music machines) (www.thehouseontherock.com)

Mineral Point

Little Wisconsin town with old fashioned main street and several antique stores as well as some restaurants.

Canoe Trip on the Wisconsin River

Something unique and enjoyable to do on Saturday if the weather is nice and you don't get up too late — make reservations to be sure to get back to Madison in time. Paddling (SLOW!) from Sauk City to Ferry Bluff — about 3 hrs (7 miles) (http://www.spcanoerentals.com/) Sauk Prairie Canoe Center, 932 Water St., Sauk City, phone 608-643-6589. The rental building is half a block west of Hwy. 12 just before the bridge. $ 30 per canoe (2 people, additional person $ 5) — includes pickup at Ferry Bluff. Bring sun lotion, hat, liquid. Drive west on University Ave — about 2 mi from campus you may want to pick up picnic food and liquids at Whole Foods on the left of University Ave as you drive out.

Old World Wisconsin

The immigrants and pioneers who settled Wisconsin came from vastly different cultures. Yet they all shared a common purpose — the determined pursuit of the American Dream. Old World Wisconsin tells their stories by re-creating a world in which farmers, tradesmen and shopkeepers lead their lives the same way these settlers did. (http://www.wisconsinhistory.org/oww/)
Last Updated: June 28, 2005